It's important to give back to the community in which we live and work, which is why we are involved in a number of local outreach and charity initiatives. Pacific eyeDoctors is a proud supporter of our community. Some of the community initiatives we support include:
Kindergarden Tours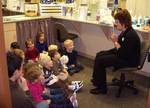 Ridge Meadows Hospital Foundation
Children's Hospital
Chamber of Commerce
Lion's Club
Maple Ridge/Pitt Meadows Community Services – " I wish to thank you for your generosity with respect to your donation for our 8th Annual Silent Auction."
Scholarship and Bursaries for local High School Grads
"I am honored to be a recipient of the Pacific eyeDoctors Clinic prize. Iwould like to thank you for the financial support I will receive in support of my post secondary education." – Scotti
"I wish to express my sincere appreciation in selecting me as one of the 2012 Grad award recipients. This award will be of great assistance to me in my goal of attaining a degree in Science from SFU. Thank you for your generocity." – Hayleigh
"I am very appreciative that you have allowed me the honour of being your selected recipient of 2012 Grad Prize. My goal is to finish SFU with a Bachelor of Science. Thanks to your generocity my finacial transition will be a lot smoother. It will help me reach my goal of going into medicine." – Taylor
Adoption of local families at Christmas
The Royal Canadian Legion
Maple Ridge/Pitt Meadows Community Services
New Mothers' Forum
Joined forces with Nikon to raise funds for the Japan Earthquake & Asia-Pacific Tsunami
"Light Up the Night" Gala Dinner and Auction
Cythera House